After 10 years of efforts, Yuhao Chemical has completed thousands of products and intermediates synthesis. We now have more than 2000 products in stock. We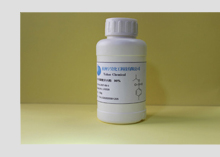 have a variety of product distribution, includes boric acid compounds, fluorine-containing compounds, photoelectric compounds, API and intermediates, etc.
Quality is the first principle for good service. We strictly follow quality control system. Before release we analyze every product by numbers of instrumental analysis to ensure the quality. We can provide HPLC, GC, MS, IR, LC-MS, and GC-MS data, etc.
We promise the following service in our business: rapid response; good price; quality assurance; timely delivery; detailed data report and customer satisfaction.

Welcome to choose Yuhao Chemical as your partner. We promise you the best service.